Saigon Travel Advice
Saigon, or Hochiminh is a city of charm, and friendliness. We may call it Saigon, or Hochiminh city; neither are wrong. Saigon was the old name before 1976 and the name of Hochiminh city came after that. Welcome to my city, and let me tell you some brief information you need to know, in addition to this tiny Saigon Travel Advice
What to bring – Saigon travel advice
In Saigon we have nearly everything you need. So don't make a big pack and then you will feel sorry. You will pay cheaper if buying here.. Just bring a good walking shoes that you may not find down the real one that make you comfortable for your health. Bring your tablets and medicine that decide your health. Don't' even buy a guide book ( i.e. Lonely Planet) because you can buy it here with $6. Clothes and suite cases? Buy them at Ben Thanh market with a much cheaper price and good time to meet the Vietnamese people. A touch for tunnel and cave tours, calculator for your money notion ? Buy at a book shop at Leloi street. Mosqhito repellent? Buy at any chemist shop and they are a lot anywhere, just ask a person you see on the street. ATM are anywhere, just bring some credit or debit.
Traffic – Saigon travel advice
In a city of 9 million people, of which 5 million of them use scooters and 1 million use cars and trucks, crossing the road is a challenge. In Vietnam we don't get used to use the zebra crossing, then the vehicles don't stop before that. Motorbikes and scooters are allowed to turn right even at the red traffic light. Then you will feel that they don't mind to stop before the traffic light. The best way to cross the road is that you should KEEP WALKING SLOWLY, AND NEVER RUN OR JUMP. If you go slowly, the vehicles there know how to go around you. If you run, they will be not able to control the traffic and accident will come. Wait for the cars and trucks to pass by and ignore the scooters. If you can do that you can tell yourself that from now on you can overcome any difficulty in this world. What can you compare with crossing the road in Vietnam?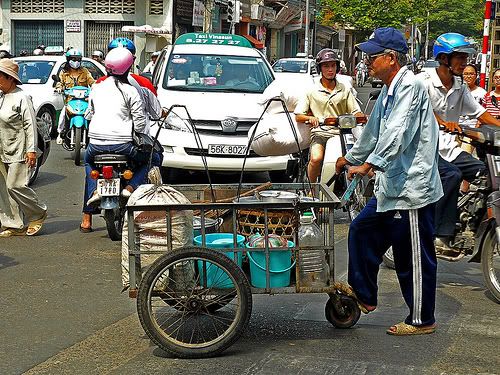 Transport – Saigon travel advice
We don't have Metro yet. We only have public bus, taxi, cyclo and motorbike taxi. There are many men staying on their motorbikes at every corner and they are cheap to use if you are risky enough. You often pay Dong 5 000 per kilometer and they have no metre counter then just make a deal before you go. You will be given a helmet and you will know that you are still survived after arriving. There is another kind of transport named cyclo which is a kind of rickshaw that you stay at the front and the man at the back pushes the peddle. This is a very interesting vehicle for a trip to see Saigon and have pictures of people on scooters here. However, I strongly not to book buy yourself. You should ask a tour guide, or a hotel staff to book it for you. They know who they book and know whom to complaint the service to. Taxies are fine and all of them should be equipped by metre counters. However, some of them may have a much shorter kilometer than others, then just choose some I know they are ok. Mailinh taxi which possesses green and white color cars and is numbered 38 38 38 38 is the best. Vinasun with same color and is numbered 38 27 27 27 is ok. However, watch out the copy 38 27 27 77 ( notive that 77 at the end, not 27) with the same color. Grey one is also not recommended because their one kilometer is only 500m.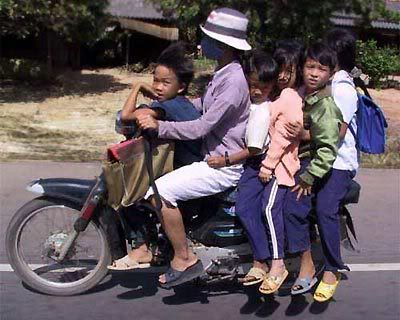 Money – Saigon travel advice
In this city cash is more preferred than credit card. You will see that you are millionaire here. Our currency is DONG. One USD is a bit over DONG 21000. We use the note 200, 500, 1 000, 2 000, 5 000, 10 000, 20 000, 50 000, 10 000, 20 000, 50 000, 100 000, 200 000 and 500 000 which are equal to 1.2 cents, 3cents, 6 cents, 12 cents, 30 cents, 60 cents, USD1.2 , USD 3, USD 6, USD 12, and USD 30, relatively. So with USD 60, you are a real millionaire. Congratulation! This is really a matrix for you then I tell you to buy a calculator at the book shop at Leloi Street to make you understand how much in your value when you hear a number from as hop assistant. Dong is better to be used than USD here because you may not get a good rate if you pay by USD. You can find out many banks, money exchange tables, or even you can change money at a jewelry shop. You can change traveler cheques there too ( some places you can even do that at 8 pm). I strongly recommend you to have credit or debit cards, which you can get money any time. Notice that some ATM doesn't give you cash, because this ATM belongs to a bank that doesn't have contract with your bank, find another, you can find Vietcombank is the most useful because they even have contract with Plus, Diner, Cirrus, etc. One drawing is only allowed two million dong which is about USD 120. After you get money and the card has been splitted out, you can put it in and do it again. Any withdrawal should be charged 3%
Tours – Saigon travel advice
You can book tour from the two main places. The first is the back packers' place in a corner made by the De Tham, Pham Ngu Lao and Bui Vien streets. Tour are run avery day to interesting spots around. If you don't want to be in a group of 40 and be herded like sheep, you can book tours at many tour desk at Dong Khoi street. The tours you had better not to miss are tour to Cuchi Tunnel, Caodai temple, Mekong 2 days to floating market
Water – Saigon travel advice
Strongly not recommend to drink water from tap, only drink bottled water. That's why if you stay at a hotel of 4 stars or more, you will find out there are free bottles of water. These water are for you to brush your teeth and if you drink a bit when you are doing it, you are still fine. Just only drink ice with round shape with a hole in the middle because this is the only ice made from purified water.
Hotels – Saigon travel advice
The hotels are same to tours: Bui Vien Street for cheap ones and Dong Khoi street for up-class hotels. For the hotel in Dong Khoi, you should book before thru internet or a company; they are usually fully booked. The hotels at the cheap rate at Bui Vien Street are more handy. You can go around there, have a look at their rooms and prices, and pick the most suitable
Market and bargain
Ben Thanh market in the center of Saigon is the main place for anyone to buy any thing you want to buy. Bargain is recommended here. If you here 10, you may think of 7 and start from 5. Remember that bargain is culture in Vietnam and don't feel annoyed about this. Always keep your face happy, smiling and not to argue. Besides Ben Thanh market, you can go to Saigon square at the cross road of Nam Ky Khoi Nghia street and Leloi street. Some doesn't like hot whether can go to Tax Trade Center at the cross road of Leloi street and Nguyen Hue Street. You can enjoy here air-conditioner, late close up to 10pm, and no bargain
Dress – Saigon travel advice
In Vietnam we don't respect people who wear too few in their body. Short are alright but not too short ( not shorter than 30cm for a pant). Showimg too much skin at thigh, arm and shoulder will be considered sex-arouser. Sandles are good for walking and easy to take off before going to temples
Internet and phone
Internet shops are anywhere. You can check email at their PC easily with the price less than 50cent per hour. In Saigon wiless is more popular than many big cities in Europe, and it is mostly free. If you have a laptop, you are recommended to switch on your wifi detector, if you can't have wiless in your hotel, surely you can find it at a coffee shop or a hamburger shop. If you make a phone call to your Mum from Saigon, you had better to re member this number: 171. You can dial like this 171 + 00 + country code + state code + your number at any public telephone place. You only pay 60 cents per minutes instead of USD 3. If you call this system from your hotel, the price is cheaper than normal call but of course the hotel will charge a fee on that
Crime – Saigon travel advice
Saigon is like other cities of Vietnam: safe, friendly and free. You can go to anywhere you want, back to hotel any time. Police will help you and with them even you are more protected than the local people. However, back snatchers are still scared to some tour guides because this takes time to take tourists to police station for a report. There are often 2 guys running motorbike very fast and the guy at the back will snatch you backpack. Then do not bring all your Credit cards when you are on the street, carry your backpack by 2 ropes to 2 arms, or put a rope round our head. This rarely happens but this happens as the same to any other big city in this world. So carefulness is never useless
Food and drink – Saigon travel advice
What to drink? Of course Saigon beer, a very tasty beer. Saigon Beer has many versions: green lable, red lable, short bottle and 333 ( only in can). I choose red lable but you may have another idea. For meal, don't forget to take PHO, a Vietnamese traditional food. This is a kind of rice noodle with beef, and now the variety has been open to chicken, seafood and veggies. PHO now is so famous that some companies has made their own taste and franchise to nationwide level. Pho 2000 and pho 24 are the most well-known
Saigon has many things more to discover, so why don't you come? For more information, ask me. Nice to be your friend in Saigon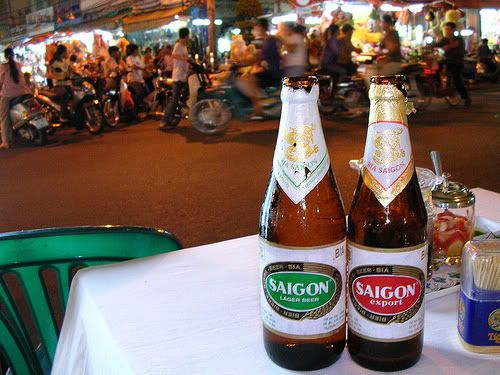 https://mekongtrails.com/wp-content/uploads/2014/09/bia.jpg
333
500
Vietnam Travel
https://mekongtrails.com/wp-content/uploads/2018/03/Mekong-Trails-private-tours-Vietnam.png
Vietnam Travel
2013-04-24 08:16:39
2017-06-22 11:11:17
Saigon Travel Advice - Travel guide the read before you go